Welcome to Stone Cottage Farm, the home of Farmers David & Christina
When the House was built, it was with stone prepared at the quarry; so that neither hammer nor axe nor any tool of iron was heard in the Temple, while it was being built. 1 Kings 6:7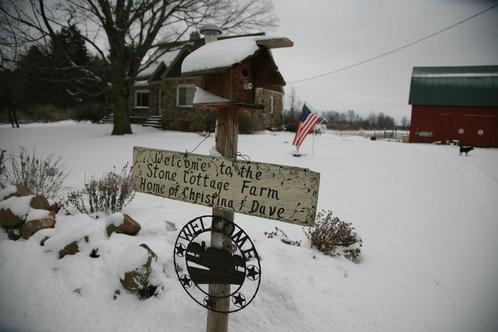 Stone Cottage Farm
To provide sustainable agricultural products and education in support of local community.
David Beecher
Cheesemaker, gardener, fence fixer, resident self-taught goat whisperer, chef, tractor operator & mechanic, arbor maker, wood cutter, beekeeper, hunter, and more.

Christina Beecher
Soapmaker, gardener, stall cleaner, poet, rototiller, goat kid coddler, strudel maker, photographer, glogger (garden blogger), and more.

Our Farm Family
We raise registered Alpine and Nubian dairy goats, and chickens (Barred Rock, Wellsummer, Partridge Rock, and others), keep honey bees, and tend a large vegetable and herb garden every year. Our two dogs, Casey the Wonderdog, and Roxy the Wanderer, keep watch on the farm yard for us, and our three cats keep the mice and moles at bay.

The delicious milk our does give just can't be beat. We enjoy not only drinking it, but also making cheese, and soap with it. We have a disease free, closed herd. Our goats are fed only very limited grain, spending their days lazing in the shade of the barn or on more fresh, lush, chemical free pasture than they could ever put a dent in. We cut our own hay from these same fields. We are dedicated to being the best stewards of our farm as possible, taking a sustainable, natural approach to things. Bearing that in mind, our goats are never given medications unless they absolutely need it, and only after trying natural solutions first.

Our chickens enjoy access to the same lush pasture, only confined (mostly of their own choosing) to their coop in the coldest parts of our Michigan winters. The difference free ranging makes is evident in the dark orange yolks, and delicious taste of their eggs.

About half way back our lane are three hives home to our honey bees. We also take a natural, laid back approach to bee keeping, never using chemicals on our hives. Our bees reward us with pound after pound of heavenly sweet, raw honey.